I arrived at the Boulder Rifle Club a little early, and found many other participants already there.  BRC is our local "unobtanium" private range – it's members-only and the wait list is reportedly decades long.  They hosted the event for a range fee of $10 for both days, which seems reasonable to me given that their facilities include permanent toilets and the like.  A big thanks is in order to BRC.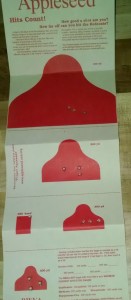 Once we got paperwork filled out and completed the safety lecture, we uncased the rifles and shot our first redcoat of the day.  I found myself starting the day feeling rather wobbly and like I wasn't shooting my best.  Thanks to being able to warm up on the 100y and 200y targets, I got down to business and cleaned the target (barely), the only shooter to do so.  I was also the only one to hit the shingle.  This feeling of not shooting well would persist with me through the day, even though by most objective measures I was shooting just fine.  Some days you just wake up on the wrong side of the bed.
In terms of shooter ability level, we had a mix with a strong bias towards beginners.  The woman next to me on the line I believe had never shot a rifle before.  I was very impressed without how well the Appleseed staff helped the new shooters with dedicated instructors, loaner equipment, and lots of patience.  By the end of the day she had improved from not being on paper to achieving roughly 50-75% hits at 100 yards (simulated) from prone.  That may not seem like much, but it was a substantial improvement made possible by dedicated instruction.
Instruction progressed through the 6 steps, neutral point of aim, stable shooting factors, and the positions.  As we worked through prone position, I came to the conclusion that I really needed to move the scope forward on the CZ 455.  The eyebox was simply too far back in prone and I was doing the opposite of a turkey neck – maybe more like llama neck.  While the SWFA SS 3-15 is a great scope that works well at 25y and I think was big part of why I was outshooting others on the line initially, it did find myself cursing the compact eyebox.  Eventually I bit the bullet and moved the scope and re-zeroed.  I wasn't thrilled to lose my careful bench zero, but the adjustment went off without incident.  The rifle was much more pleasant to shoot after that.
The lunch lecture on the first 2 of 3 strikes was OK.  I found it at times hard to keep track of the participants and their actions.  None the less it was enjoyable to learn some history, and this was certainly a more in depth presentation than I've ever gotten anywhere else.  I have ordered a copy of the book they recommended – "Paul Revere's Ride".  Hopefully it will clarify a lot of things.
I'm sure this is not much of a revelation to anyone who's been to an Appleseed, but sitting position is a huge pain in the rear, pretty much literally.  There's no way for me to shoot sitting at my home range (there's a wall in the way) so the best I'd been able to do for practice was to dry fire in the living room.  I ended up changing my approach from cross-ankle sitting to cross legged sitting because that seemed to be right for the target height.  I never did find a way to sit comfortably, but on my last group I did put 5 out of 5 into a 400y redcoat from sitting, so I guess I at least got good enough.
I came in fairly convinced that shooting a bolt rifle would not be a major liability, and it wasn't.  I never ran out of time on any drills, and frequently was one of the first ones finished.  I did find however that the "rifleman's cadence" was just too fast and switched to two breaths between shots.  I found one was leaving me low on oxygen, and two was plenty fast enough.
While we shot from all three positions, we didn't get an opportunity to shoot an AQT.   The day ended with a final redcoat which I again cleaned, again barely.  Overall marksmanship had improved dramatically, with 3 clean targets, 6 shingle hits, and several people improving to 100y or 200y effective range.  Given the number of clean targets I'm anticipating several people including myself will shoot rifleman promptly.  I'm looking forward to Sunday.