"The measure of the rifleman is to achieve first-round hits, on appropriate targets, at unknown ranges, from improvised firing positions, against the clock." – Jeff Cooper
Over the past year I've been working hard at improving my field rifle shooting.   In order to speed that process along I've decided to take a two day Project Appleseed class in rifle marksmanship.  On April 23rd and 24th I'll be attending an Appleseed shoot at Boulder Rifle Club in Boulder, CO.  As best as I can tell, these classes are unique in the firearms training world.  First off, they have volunteer instructors who are members of the whimsically named Revolutionary War Veterans of America.  As a result the classes are remarkably inexpensive – $60 for two full days of instruction, possibly with an additional range fee depending on where the class is held.  Prices are further reduced for children, military/LEO, and those who take advantage of coupon deals through Groupon or other sources.  Those who have taken both Appleseed classes and NRA or CMP classes have indicated the Appleseed ones are somewhat better, so hopefully this really is a case of getting more than you pay for.
You might then wonder: why are these instructors volunteering their time to teach rifle marksmanship?  According to the RWVA, they believe rifle marksmanship is essential to the maintenance of our liberty and the survival of our democracy.  You can read what they have to say on the matter at their main website and in their mission statement.  This brings us to the second unique thing about Project Appleseed shoots: in addition to rifle marksmanship, the teach in brief the history of the founding of our nation, specifically the events of April 19th 1775 and the "shot heard round the world".  I for one can say that part of history was given rather short shrift in school – there was something about Paul Revere riding somewhere and one if by land, two if by sea.  And of course battles at Lexington and Concord, although I'll admit I'm a bit hazy about exactly who fought there, who won, and what caused the American Revolution to break out at that point.  So perhaps a refresher is in order…
Back to the rifle marksmanship front, the objective of Appleseed shoots is to train Riflemen, which they define as shooting a score of 210 out of 250 on an Appleseed Qualification Target or AQT.  This is a modified version of the 25 yard Army Qualification Target.  The standard of 210 is quite high – on the original Army target, scoring 200 out of 250 was an Expert score.  The AQT is a reduction target, designed to simulate shooting man sized targets at 100, 200, 300 and 400 yards.  There are also "known distance" versions of the Appleseed shoot, where larger targets are shot at longer distances.  Unfortunately the shoot I'm planning to attend does not appear to offer a known distance component.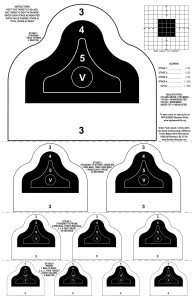 The course of fire is broken up into 4 10-shot strings as follows:
Standing position, 50 points: 10 shots at the 100y target with no reload in 2 minutes
Sitting or kneeling position, 50 points: 10 shots at the 200y targets with 1 reload in 55 seconds
Prone position, 50 points: 10 shots at the 300y targets with 1 reload in 65 seconds
Prone position, 100 points (scores doubled): 10 shots at the 400y targets with no reloads in 5 minutes
As you can see, the 1st and 4th string are relatively slow fire, while the middle two have a lot of time pressure.  This course of fire isn't necessarily stringent enough to meet Jeff Cooper's definition of the Rifleman, but I would argue this: if you can't accurately shoot reduction targets from a variety of positions, there is zero chance you will have success shooting unknown distance targets.  The vast majority of aspects of marksmanship are the same between the two.  Distance shooting just adds a couple of additional elements: range estimation, compensating for drop, and compensating for wind.  Everything else is the same.  So it makes sense to walk before you run.
Preparation & Rifles
Project Appleseed provide a list of items to bring to the shoot.  Obviously the first order of business is a rifle and appropriate ammo.  They're willing to work with you using any safe rifle of .22 to .32 caliber.  That said, clearly some rifles work better than others.  They recommend what they call a liberty training rifle – a Ruger 10/22 equipped with Tech Sight peep sights and a GI style web sling.  I'm sure this is a very suitable option, but:
I don't own a 10/22
I'm fairly myopic in my right (dominant) and despite corrective glasses find it much easier to shoot with a scope
One option would be to buy and scope a 10/22.  However, given the option I'd prefer to stick with something I already own.  The obvious candidate is my CZ 455 Varmint in .22LR.  It's accurate, handy, accepts 5 and 10 round box magazines, and is already scoped with a SWFA SS 3-15 scope.  This in my experience is a good scope for shooting at 25 yards, because it has an appropriate parallax setting whereas many scopes are fixed at 50 or 100 yards, or adjustable but the minimum setting is 50 yards.  The CZ is capable of holding about 1 MOA groups with CCI Standard Velocity ammo, which is thankfully now readily available in 500 round bricks.  It will shoot better than MOA with RWS 100 ammo, but for this application I see no reason to spend the money when shooting 2+ MOA targets.  In order to achieve this level of accuracy, the CZ has had some modifications: DIP bottom metal and careful setting of the action screws, a rubber stock shim on the first 3 inches of the barrel, and the barrel replaced with another factory barrel after my original developed the dreaded CZ first round flier problem.  You can read more than you ever want to know about that issue over at rimfire central.  Point being, I've put some time and money into insuring the CZ shoots right.

The CZ 455 is equipped with a RifleCraft Rhodesian web sling.  While not exactly the GI loop sling Appleseed recommends, it does allow one to quickly loop up and is IMO a far superior field sling to the GI model.  Unfortunately RifleCraft seems to be out of business, but there are a couple of other, similar, slings in leather.  I ordered a GI sling just in case I need it for some reason.
I'm very comfortable with the CZ and confident of its capabilities, but there is one minor issue: it's a bolt rifle, and the Appleseed course of fire is set up primarily for autos.  This raises the obvious question: will working the bolt cost too much time on the rapid fire stages?  The easiest way to answer this question would simply to be print off an AQT and try it.  Unfortunately, the range where I normally shoot is an indoor range.  I can shoot stage 1 on the 25 yard pistol range, but there's no way to shoot the other stages exactly as written.  So to get the best understanding of the timing of stages 2 and 3, I shot them several times dry fire in my living room.  My conclusion was that I could make all the position transitions, reloads, work the bolt, and re-acquire aim as needed in about 45-50 seconds for both stages.  So while I'll have to get a move on, I don't expect the bolt rifle to be a hindrance and I should have time to correct for minor bobbles and still get all 10 shots off.
There are plenty of good reasons to shoot a rimfire rifle for an event like this, starting of course with the ammo cost being about 1/3 of the cheapest I could possibly shoot centerfire.  Then of course there's being polite to your neighbors on the line.  While something like a 7mm magnum would technically be a "legal" rifle, no one wants to listen to that all day.  Plus when you get down to it, my shoulder doesn't want to be behind it and my wallet doesn't want to pay for it.  That said, Project Appleseed is simulating shooting at people not squirrels, and there's not much of an anti-personnel application for rimfire cartridges.  They're just a convenient training tool.  So to get some practice with a more practical weapon, I am going to bring a centerfire rifle – a LMT MRP chambered in 5.56 with a US Optics 1.8-10 scope and a custom Rhodesian sling I sewed up since RifleCraft went out of business.  An AR Gold trigger is installed.  This rifle has the nice property that it shoots surplus ammo well – it'll hold between 1 and 2 MOA with M193 surplus ammo, which is sufficient to shoot a clean AQT.  It does much better with Gold Medal Match, and if I actually do have a clean target going into the prone stages I may foot the bill to shoot the good stuff for a little edge trying to finish it out.  But otherwise the M193 will be just fine.  The USO scope has a minimum focus distance of 30 yards, so it'll be a touch blurry at 25, but I've tested it and it's not a problem.  My plan is to shoot primarily with the .22, but break out the 5.56 for a couple of targets at some point.


I also considered bringing a military surplus rifle, a 1917 Swedish Mauser chambered in 6.5×55.  It's accurate enough (2-3 MOA) but the sights are hard to use, and do worst on dark/black targets.  Unfortunately that's the typical color for an AQT.  I shot a trial of stage 4 off a bench (yeah, yeah, at least I didn't use bags) to see if I could manage with the Mauser, and I concluded that it's just not quite up to the task.  Here's my target: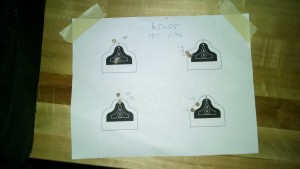 The black-on-black sight picture caused my groups to grow a couple MOA.  With -38 points on just that one target, I think it's pretty clear I'm not going to be shooting Rifleman with the Mauser.  I supposed it's possible something they'll teach at the Appleseed will make this rifle more usable, but my gut feeling is it's not suitable.  I'll bring it, and if I have extra time on Sunday I might break it out.  But it will probably just stay in the truck.
Objectives
Be safe
Have a fun weekend out of the house, and enjoy some shooting
Shoot Rifleman with both the CZ and LMT rifles.

I've shot through the course of fire several times (with some modifications given the limitations of my home range) and I'm pretty confident this won't be a problem.

Shoot what I'll term "high rifleman" – a substantially higher score, ideally > 240 with one or both rifles

Likewise, I think this is well within reach of my current skills although it may take a few tries

Try to shoot a clean target (250 points)

I'm a competitive fellow, and I'd love to make this happen but I'm not at all confident it will.  It seems like about 1 in 4 of my stage 1 targets are clean right now (with either rifle), but hopefully two days of practice and technique improvement will help that.  The prone stages seem a bit easier to clean.  Stage 2 is the hardest to simulate on my range so I don't really have a good idea there but I've got the sitting position so it feels very stable in dry fire.

Learn some history
Meet some like minded people in the area
Determine the degree to which Appleseed classes are something I can recommend to other people
See if the RWVA are people I'd like to volunteer with.  Their goal and methods seem admirable, but I want to see what it looks like from the inside
I'll post an after-action report (or possibly one for each day) and let you know how it went!